Browse below to see reader-submitted pictures of solar system planets, ghostly nebulae, distant galaxies, jewel-like star clusters, and other celestial wonders. Once a week, we'll highlight one of the many spectacular astronomy photos in our Editor's Choice gallery. If you're just getting started taking photos of the night sky, we invite you to check out our astrophotography tips.
Submit your own photos to the Sky & Telescope online photo gallery.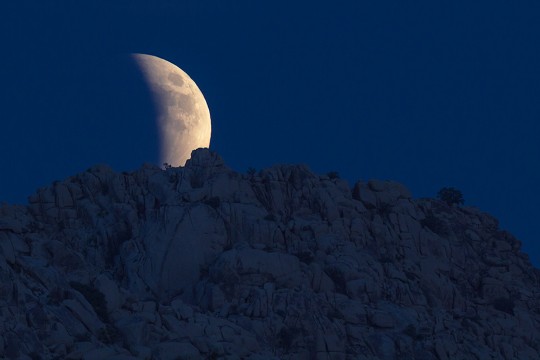 Photographer
Pauline Acalin
Location of Photo
Joshua Tree, California, USA
Date of Photo
September 27, 2015
Equipment
Canon 50D, 400mm, ISO 200, 1/40sec at f/6.3
Description
Took my daughter out to Joshua Tree for her first eclipse photoshoot, which was cut short by a rattlesnake in our camp. Fun adventure!